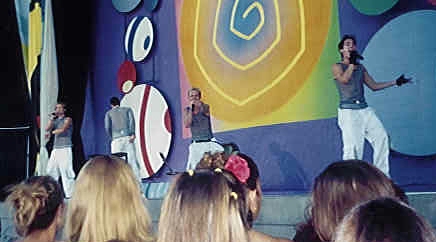 In the photo above, I just happened to take the pic exactly when one of the guys pointed at my friend who was standing right behind me!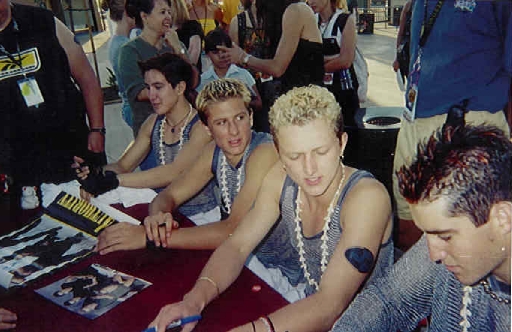 The picture above was taken by my friend when she got the paper below autographed.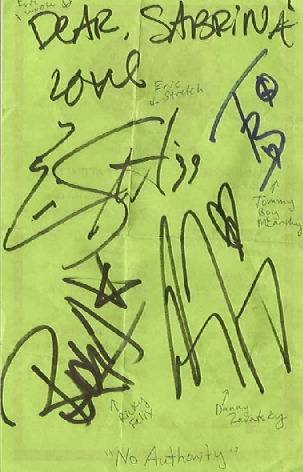 No Authority was the first group to perform at the All That Music and More Festival at Coors Amphitheatre in San Diego on July 23, 1999. Boy did they shake those hips! After they performed they did an autograph signing and I went with my friends to stand in line. One of my friends though got out of the line (I went with her) and stood right up by the table. No Authority came over and as they were going to sit down my friend reached out and shook one of their hands! Then we got back in line but EYC was almost about to come on so I left and went to watch. When I came back my friends were still in line. Later on, my friend and I were walking around up where they had been doing the signings and she went over to the No Authority table. There were only a couple security guards still there, cleaning up. One of them offered my friend Danny's sweat towel and sealed water bottle. The water bottle she threw up to Jeff during 98 Degrees, but the towel she has at home sealed in a ziplock bag. It still smells good even. After the whole concert was over my friends and I were waiting for our ride home out in back of the venue by the place where the tour busses drive out of, just talking to the security guard there. After the whole place was cleared out and we were like the only ones there still, a car drove up and low and behold, Eric was in the passenger seat! Two other girls came running up to the car and asked if they could get a picture with him. He talked quietly to the girl in the driver's seat then announced that he wasn't allowed to get out of the car. He had the girls come over to his window and got a picture with them that way. My friend took the picture with the girls' camera. Eric asked if my friends and I wanted to come for a ride with him, but our ride was supposed to be there any minute so we had to refuse.